comment
Status: 04/02/2021 3:20 p.m.
Good Friday is one of the most important holidays for Christians. They commemorate the death of Jesus. But how do the many Muslims in this country feel about Christian holidays? Are they days like everyone else?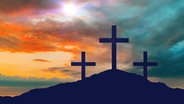 Listen to the article4 min
by Kadriye Acar
For Nursing Manager Nadia Bouazzi Ouldaly, Good Friday is a day like any other. The patients need to be cared for, such as Ms. Just, whose sugar levels are significantly increased. Nadia has been looking after the 86-year-old, who no longer has any relatives, for two years. Today she, the devout Muslim, brought her Catholic patient a self-baked Easter lamb because she knows how important this symbol is in Christianity.
For Nadia Bouazzi Ouldaly, Good Friday is a day like any other.
The elderly woman is very happy, but Nadia Bouazzi Ouldaly is also happy. Otherwise she is the one who receives presents from the patients. "Regardless of whether it is Christmas or Easter - the patients always give something," says Nadia Bouazzi Ouldaly. "Whether for the office, for my son or for me. It is always based on reciprocity. That has nothing to do with religion. And even if it is, Jesus is a prophet who is venerated in Islam. That is a present, that reminds me of an important prophet in Islam. Even if we do not celebrate the same holidays. It is also natural for me to give patients something for the Sugar Festival and the Festival of Sacrifice, which they accept with gratitude. I give and receive presents. "
Jesus in Islam: Not a son, but a servant of God
At the age of 21, it was clear to the now 33-year-old Muslim that she wanted to realize her dream and start a nursing service. It takes care of people from different countries and religions. But the majority of those in need of care are Christians who now know that they are not allowed to offer water to Nadia in Ramadan because she is fasting. But very few people know that Jesus is a great prophet in Islam. "Many people think that there is only Mohammed as a prophet in Islam, but that is not true," emphasizes Nadia Bouazzi Ouldaly. "All the prophets mentioned in the Bible are also in Islam. These narratives are almost the same. Except that we say that Jesus is not the Son of God, but that he is a servant of God."
The Trinity, the death of Jesus on the cross and the resurrection after 40 days - most Muslims have difficulties with that. Because in sura 4, verse 157 it says: "They did not kill him, certainly not. Rather God raised him up to himself."
Jesus is mentioned more often in the Koran than Mohammed
In all suras that deal with Jesus, it becomes clear that the Koran has a very positive relationship with him. Jesus is mentioned more often in the Koran than Mohammed, the herald of Islam.
"We believe that all of these are prophets, and everyone had their task. The major difference with Jesus is that he is not the Son of God and did not die for the sins of men. We respect him as prophets, we love and honor him . "
This topic in the program:
NDR culture | Friday Forum | 04/02/2021 | 3:20 pm